U Students to present research on Capitol Hill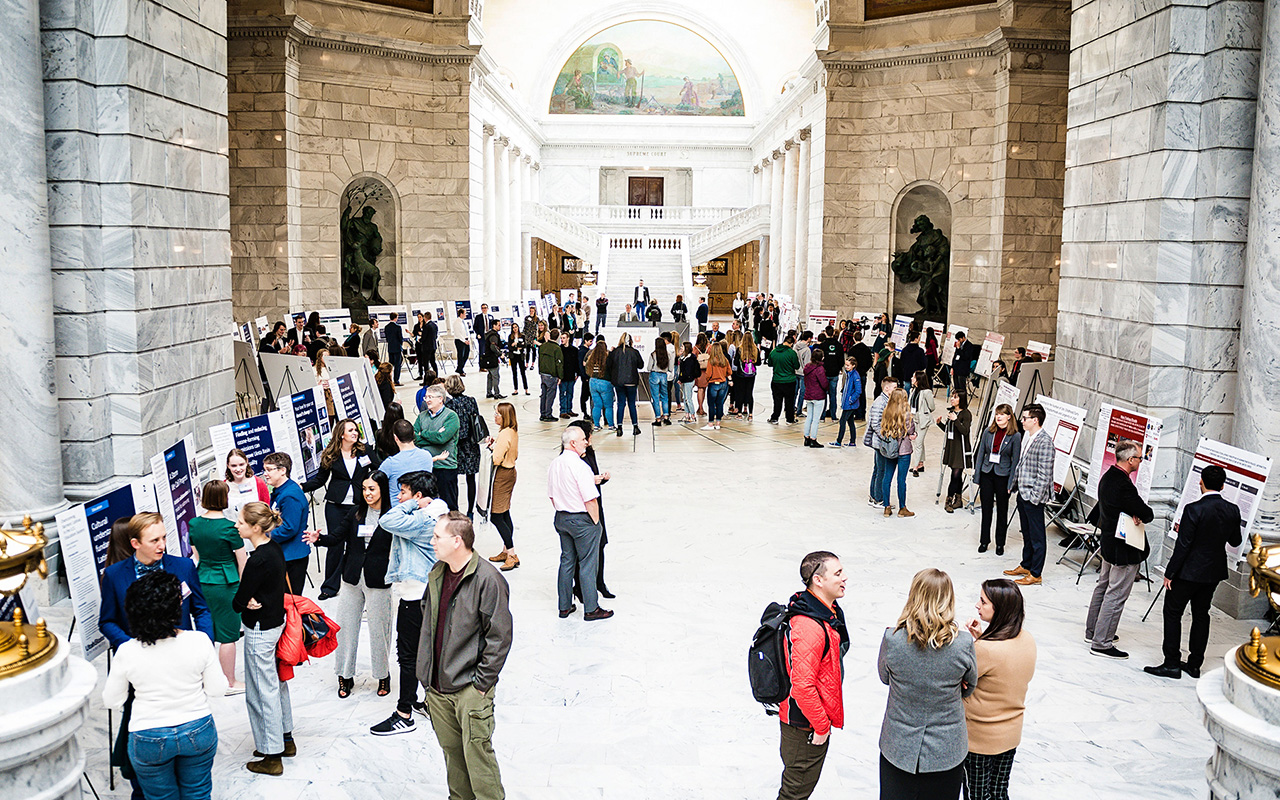 Undergraduate students from the University of Utah, along with students from Utah State University, will showcase their research for Utah lawmakers and the general public on Tuesday, Feb. 8 from 9 a.m. to 1 p.m. in the rotunda at the Utah State Capitol.
Research on Capitol Hill is an annual event that gives lawmakers and the public a glimpse of the breadth of research programs at the U and reinforces the value of state-funded higher education.
Students presenting at the event practice engaging in public outreach and polishing presentation skills. By explaining their research in clear, non-technical terms to event attendees including legislators, junior high students and parents, presenters practice communicating their work succinctly and accessibly.
The 24 presenters from the U this year hail from broad disciplines across campus, including engineering, medicine and social sciences.
Find the full list of research project titles from the U below.
2022 STUDENT PRESENTERS
Aasutosh Acharya - Vast stellar population size measurement using only Gaia EDR3
Alexander Brill - Prehistoric Irrigation and Corn Morphology
Rachel Compton - Effect of Dietary Strawberry on Brown Fat in C57Bl/6J Mice Fed High-Fat-Diet
Suzi Creveling - Natural stair ambulation with a robotic leg prosthesis for individuals with above/knee amputation
Shaistah Din - Cytomegalovirus education improves pregnant women's awareness and prevention behaviors
Kaylon Draney - Synthesis and Characterization of Materials Properties of a Biological Superabsorbent Polymer for Single-Use Consumer Product Applications
Gauri Garg - Correlation of Physical Activity and Nutrition with White Matter Hyperintensity
Lauren Gleave - Perceptions Surrounding and Efficacy of Utah's Sex Education Among College Students
Sydney Larsen - Short-term Supplementation with Dietary Blueberries Increases Commensal Gut Microbes in Diabetic Mice
Brooke Larson - Investigating the degradation pathways responsible for clearing toxic misfolded proteins
Cameron Mercer - Rapid Fabrication of a Dynamic Alveolar Microphysiological System with an Integrated Extracellular Matrix Membrane
Briggs Miller - The Lost City Hydrothermal Field: A Look Into Microbial Diversity and Clues Into the Emergence of Life on Earth
Melika Moeinvaziri - Effect of COVID-19 Pandemic on Oral Health Among Uninsured Populations
Azeem Mohammed - Compiling Cell Viability Data for Vitro Studies: Improving the Efficacy of Treatment for Meningioma Tumors
Emily Nevarez - Mental health among uninsured primary care patients during the COVID-19 pandemic
Sohyun Park - Marketing for Gender-Based Violence Consortium
Shaylie Platten - Anxiety, Working Memory, and Event Related Negativity
Justinas Sapiegas - Impact of Shift Work on Risk of Diabetes and Cardiovascular Disease
Jessica Sharma - Cytomegalovirus education improves pregnant women's awareness and prevention behaviors
Anish Singh - Total Topography of the Dorsal Cord in C. elegans
Madeleine Sorenson - Live Hospice Discharge: A Critical Analysis About the Ethics of Ending Hospice Care for Terminal Patients
Sabrina Su - Integration of a pneumatically actuated microvalve pump with in vitro cell culture to study the mechanobiological response of the trabecular meshwork
Heba Sultan - The influence of time-restricted feeding on arterial function in obese mice
Olivia Walker - The Effect of Changing Conductivity on Cardiac Excitation