From life in prison to a life of purpose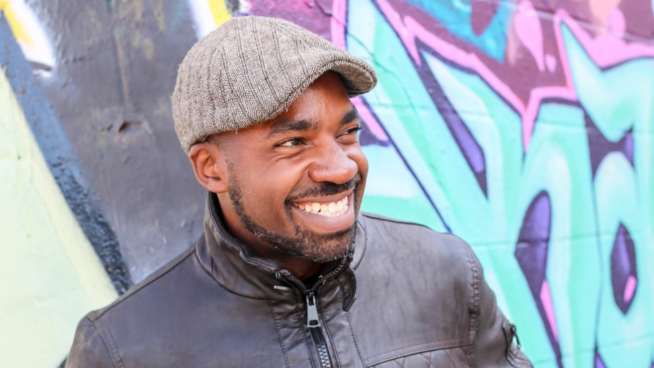 As part of its theme year on "Rebuilding," MUSE (My "U" Signature Experience) will welcome Chris Wilson to campus on April 14, 2022. As a teenager, Wilson was sentenced to life in prison without parole. Now, he is a successful entrepreneur, storyteller, artist, and social justice advocate.
"Chris Wilson brings a story of hope to all of us here at the U," said MUSE associate director Libby Henriksen. "We're confident that he'll inspire our students, who are themselves engaged in the work of rebuilding their lives after the challenges of the past two years."
Growing up in Washington, D.C., Wilson was surrounded by violence and despair. Watching his family shattered by trauma, his neighborhood beset by drugs, his friends dying one by one, he feared for his life — and took to carrying a gun. One night when he was 17, Chris was cornered by two men. He shot toward one of them, killing him. A year later, at 18, he was sentenced to life in prison, with no hope of parole.
While behind bars, Chris embarked on a remarkable journey of self-improvement. At the age of 20, he wrote a list of things he intended to accomplish or acquire; he called it his Master Plan. He revised it regularly and followed it religiously. He graduated from each vocational shop in the prison, earned his high school diploma and an Associates of Arts degree in Sociology, and taught himself to speak and write in several foreign languages. He became a mentor to other inmates and started a career center, a book club and even a business. And, in his 30s, Chris Wilson did the impossible: he convinced a judge to reduce his sentence. He came out, six years later, determined to teach others the selflessness, work ethic and professional skills that led to his second chance. Today, Chris is a speaker, advocate and social entrepreneur who employs citizens returning from prison — a hand up for those who, before him, were too often crushed by our unforgiving parole and release system.
Wilson will speak at the U on April 14, 2022 at 12 p.m. in the Alumni House ballroom. Admission is free, but registration is required. Register to attend here.
MUSE will also be providing free copies of Wilson's book, "The Master Plan: My Journey from Life in Prison to a Life of Purpose," to students, staff and faculty on a first come, first served basis. Visit the MUSE office in the Sill Center (195 S. Central Campus Dr.) to pick up a copy. For classroom set inquiries, please send an email to muse@muse.utah.edu.
"Chris Wilson contributes to our solidarity against hopelessness," said Henriksen. "We warmly encourage students and the university community to attend his talk and to join him in this life-giving work."