General Education
Learning Communities
A learning community is a small group of students and faculty studying the same topic over at least two consecutive semesters. The University of Utah is a national leader in learning community experiences. We offer more learning community opportunities than most of our PAC-12 peers. Students who begin their college experience in a learning community tend to have higher GPAs in their first year, report higher satisfaction with their first year of college, and express a stronger sense of belonging with the University. Participation in a learning community is critical to student success.
We offer two General Education learning communities, LEAP and BlockU.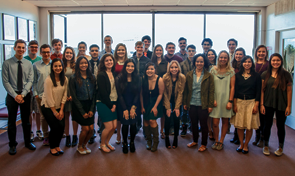 LEAP Learning Communities
LEAP is the longest running learning community on campus. In most cases, LEAP is a two semester class that you take with the same students and the same faculty. This two- semester class meets two General Education and one Bachelor Degree requirements. There are many versions of LEAP; from Arts to Health Science and more.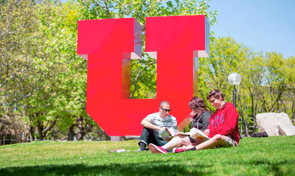 BlockU Program
BlockU is one of the newest learning community programs on campus. It allows a student to complete most of their General Education courses in a year-long learning community experience. A BlockU program offers a set schedule (a block) of thematically organized General Education courses with a learning community course as its centerpiece.